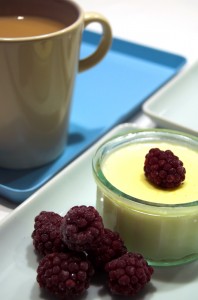 Here's a version of Panna Cotta that's measured in "new money" for those without American style measuring cups.
Note: 1 1/2 gelatine sachets can be used, but be extra careful to let them dissolve completely as per the instructions on the pack. When I used them, the gelatine sunk to the bottom of the bowl and created a hard, rubbery shell on the top that needed to be removed, leaving the panna cotta as a rather unattractive – if highly tasty – blob.
Ingredients:
600ml double cream
200ml milk
175g caster sugar
2 vanilla pods
4 leaves gelatine
Soak the gelatine leaves in cold water for at least 4-5 minutes.
Place the cream, milk, and sugar a saucepan. Split the vanilla pods lengthwise and scrape the seeds into the mixture. Slowly bring to the boil over a medium heat, stirring occasionally, until the sugar has dissolved. Remove from the heat.
Squeeze the gelatine leaves of excess water one by one and stir into the cream mixture until dissolved.
Divide the panna cotta mixture between several ramekins or pour into a medium-sized mold.
Cool and then chill in the refrigerator for 2-3 hours until set – overnight if you use one bowl.