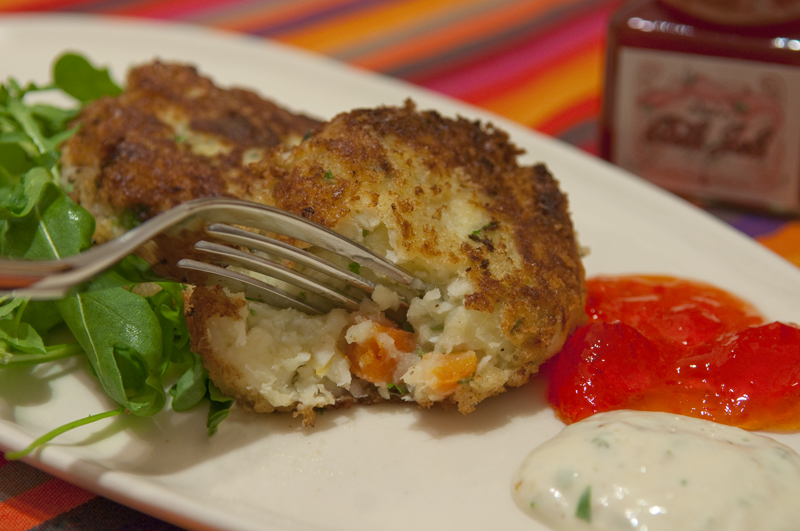 These fishcakes use cod, but could just as easily be made with any sort of fish. My daughter wasn't keen on my last batch of salmon fishcakes, so will probably stick with white fish from now on.
Serve with horseradish mayonnaise and Chili Jeli. Makes about 10 fishcakes.
Ingredients:
2 cod fillets
2 cups mashed potato
1 large carrot, cubed
2 shallots, chopped
vegetable oil for frying
1 cup chopped fresh coriander
1 lime and its zest
1 cup milk
1/2 cup white wine
2 eggs, beaten
4 slices bread, crumbed (or 2 cups oatmeal for a crunchy, gluten-free alternative)
salt and pepper to taste
Horseradish mayonnaise
1 large heaped tsp horseradish
6 large heaped tsp mayonnaise
1/4 cup chopped coriander
1 tablespoon lime juice
Freshly ground pepper to taste
If you're not using leftover mash, make the mash and cool. Crumb the bread in a blender until finely ground.
In a skillet, fry the shallot until soft and transparent. Add the cod fillets, carrot, milk and white wine and bring to a low boil over medium heat. Cover and simmer until the fish flakes easily with a fork. The carrots won't be cooked, so remove the fish to a plate, flake and let cool and continue to simmer until the carrots are tender. Drain off the liquid.
Using a fork, gently combine the fish, mash, coriander, carrots, shallots, lime juice and zest and add salt and pepper to taste. Chill for 45 minutes to an hour.
Form the chilled mixture into patties, dip in egg and then coat with bread crumbs or oatmeal and fry in a centimeter or two of medium hot oil until golden brown (3-4 minutes each side). Serve on a bed of rocket or baby leaf lettuces with the Chili Jeli and Horseradish Mayonnaise.