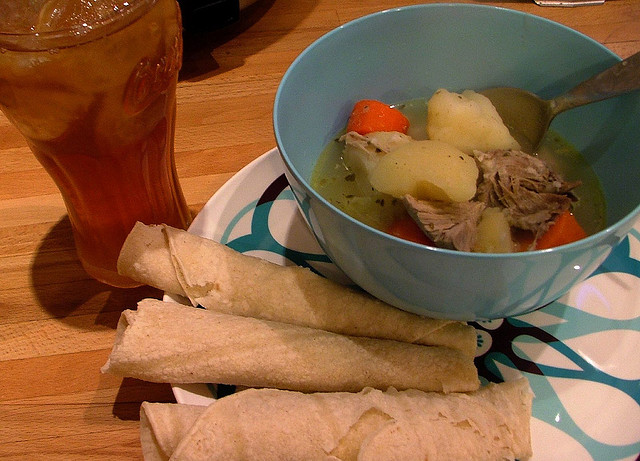 Very simple, very cheap Mexican stew. A family favourite. Serves 4 or more.
Ingredients:
shoulder of pork (you can also use a large hamhock, 'though, of course it will be considerably saltier and won't take as long to cook)
3 or 4 large potatoes quartered
half of a large head of white cabbage, quartered
3 large carrots cut into large chunks
4 small ears of corn (as in, 4 half ears)
generous amounts of cumin, oregano (about 2 tablespoons or more of each)
salt, pepper, fresh coriander and slices of lime for garnish
Brown the pork in oil in a large pot on the stove. Cover with water, add the cumin, oregano, salt and pepper and cook at a low heat for 2 to 2.5 hours, adding water if needed. When the meat is tender and separates easily, add the potatoes, cabbage and carrots and cook until tender (about 20 minutes). Add the corn for the last 5 or 10 minutes.
And that's it. Serve with fresh coriander and lime, tortillas and mexican style rice.