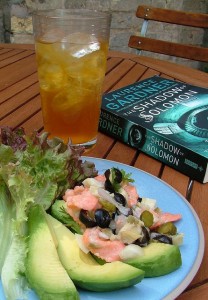 This Mexican style salad/side dish is a surprise to everyone who tries it. The fish is not cooked in the traditional way, but in lime juice which gives it a cooked texture and appearance and for all I know, fulfills the qualification of "cooking". Serves 4 to 6.
Ingredients:
250-300g fresh white fish. I used halibut, but sea bass, snapper, plaice or just about anything will work.
250g cooked prawns and/or tiny bay scallops
Enough lime juice to cover the fish. Since limes are not so juicy, you may supplement with lemon juice if you get bored trying to squeeze enough from a lime.
1/2 a large onion
1 small jalepeno pepper (or 5 or 6 slices of the pickled variety we get in the uk) or one or two fresh red chili pepper
2 medium tomatoes
10-20 pitted green or black olives
2 or 3 large spoons full capers
1/4 – 1/2 spoon cumin powder
1/4 – 1/2 spoon dried oregano
handful fresh coriander
60 ml (1/4 cup) olive oil
Remove the skin and slice the white fish into thin strips. Place in a glass bowl and cover completely with the lime juice. If you're using uncooked scallops or prawns, put them in the bowl as well, otherwise, hold off until later. Cover and place in the refridgerator until the fish looks "cooked" – in other words opaque and flaky. This should only take a half an hour to an hour depending on the thickness of the fish or the size of the prawns/scallops.
Meanwhile, finely chop the onion, pepper, tomatoes and olives.
When the fish is ready drain off the lemon juice and add the chopped vegetables and the rest of the ingredients and mix well. Cover and return to the fridge for another hour or two. Some recipes suggest 24 to 48 hours, but I prefer the more subtle flavour when left not quite as long. On the other hand, my lunch of ceviche and avocado 48 hours later was quite fab.
You could add all manner of things as well, like artichoke hearts, chopped avocado or black olives.