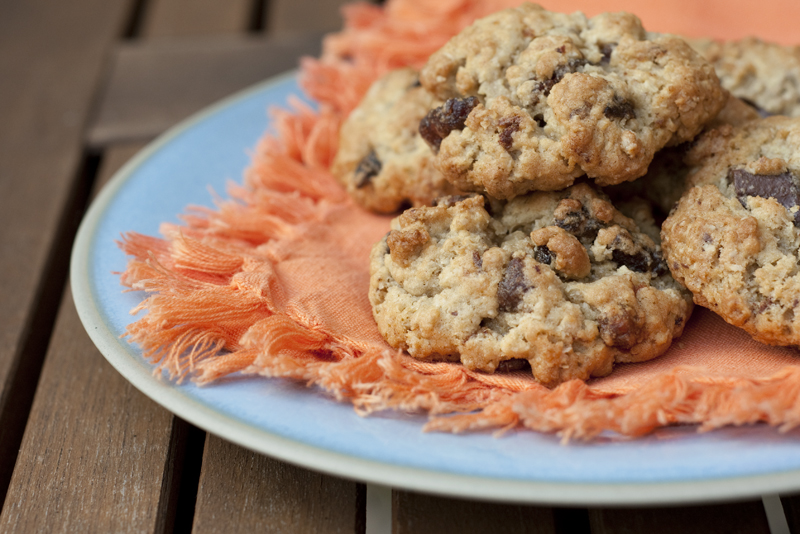 This recipe makes nice chunky cookies that won't go flat when cooked. The additional flour means they are ever so slightly cakey, but still chewy inside and crisp on the outside. I used both self-raising flour, soda and baking powder, which may seem like over-kill, but it works out in this case. An alternative would be plain flour and then double the quantities of soda and powder, but that's another experiment for a later date.
Ingredients:
4 oz butter (1/2 cup / 113g) – room temperature
1/2 cup (110g) firmly packed brown sugar
1/2 cup (100g) white sugar
1 egg
1 tsp (5ml) vanilla
1/2 tsp (2.5ml) baking soda
1/2 tsp (2.5ml) baking powder
1/2 (5ml) tsp salt
1 cup (128g) self-raising flour
1 1/2 (128g) cups rolled oats (porridge oats)
1 cup chopped dates, chocolate chips, nuts, raisins or any combination of the same (optional)
Cream together the sugars and the butter with an electric mixer. You can use a spoon, but it will take a while – the result should be fluffy and well-mixed. Add the egg and vanilla and beat well. Sift together the flour, baking powder, soda and salt and mix into the sugar mixture. Add the oats and then the other ingredients if you're using them. Refrigerate the mixture for an hour or so.
Preheat oven to 180C (160C fan/350F). This cookie mix will be very stiff, so you'll need to roll it into loose walnut-sized balls – about 2 inches in diameter – and place on a non-stick cookie sheet. Cook for 10-12 minutes until golden brown.