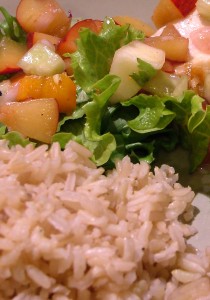 Lovely on seared tuna and salmon. Also good on a green salad or mixed with cold rice or served with anything else you'd serve a mango salsa with (I had no mangos, you see).
Enough for 4 servings. Adjust quantities and proportions as you fancy. Chop all the bits into cubes.
Ingredients:
5 fresh plums
half an apple (half because we gave the other half to the rabbits)
1/4 cucumber
1/2 orange pepper
clove of garlic
1 shallot
juice of one lime
fresh coriander
scant 1/4 cup olive oil
salt, pepper and Shichimi Togarashi (seven spice seasoning) or tabasco as you like
Mix it up.