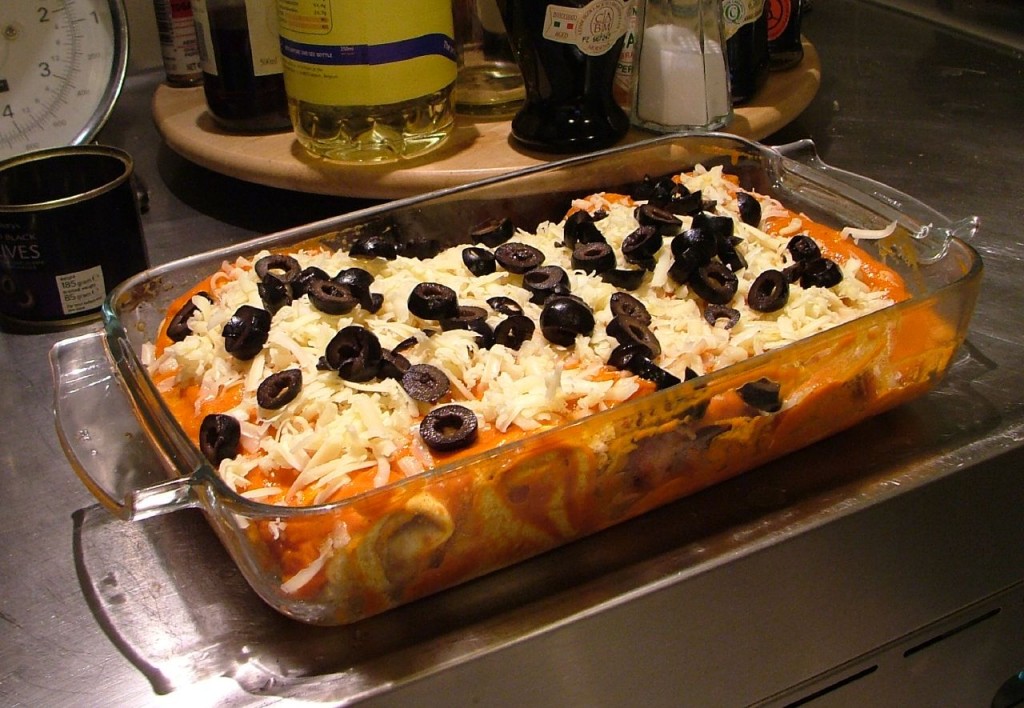 A rather time-consuming, fattening and messy proposition, but nice, nevertheless. "En Inglaterra" refers to ingredients you can get here easily. The corn tortillas from the grocery here are not really acceptable to me. Too… icky. Buy proper white corn tortillas at Mexgrocer online. Delicious.
Mexican food is not always spicy and this recipe is very mild with a creamy sauce.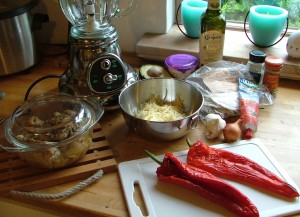 Anyway, for the chicken, place 4 chicken thighs in a covered oven dish and add a couple of tablespoons olive oil, a good couple tablespoons of powdered cumin, some dried oregano and a splash or two of tabasco. Plop in a 200C oven for a while – between 40 mintes and an hour – until cooked through and falling off the bone. Shred the chicken and set aside. Keep the oily chickeny grease as you'll need it later.
Enchilada Sauce:
2 Ramiro (large long red) Peppers
1 tblsp Oregano
1 tblsp Ground Cumin
1 cup Chicken stock
1 clove garlic
1 chopped shallot (or 1/4 of an onion. I like shallots as I don't use a lot of onion and they keep well).
scant 1/4 cup of the reserved chicken grease
1/4 cup cream or milk
1/2 tube of tomato paste
Roast the peppers in the oven until fragrant and slightly blistered. Remove from oven and let cool. Scrape the seeds from the peppers and put in a blender with the rest of the ingredients. Blend well. Pour into a largish saucepan and simmer for about 10 minutes.
For the Enchiladas
The chicken
The Sauce
250gm cheddar or Monterey Jack cheese
Soured Cream, avocado, sliced olives and cilantro (coriander) for garnish
6-8 corn tortillas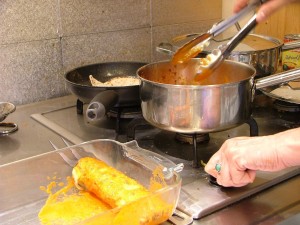 Place the rest of the chicken grease in a small frying pan and heat. You could use a cooking oil, but I like the flavour of the chicken grease. Fry a tortilla in the oil until just softened, then dip in the enchilada sauce, then transfer to a rectangular oven dish. Add a couple of tablespoons of chicken and a handful of cheese to the middle of the tortilla and roll it up gently. Repeat for the remainder of the tortillas until the pan is filled. Cover with the remaining sauce, sprinkle with the rest of the cheese and some olives. Bake in a 200C oven for 30-40 minutes until heated through.
Serve with the condiments, mexican rice and refried beans).
Ole!