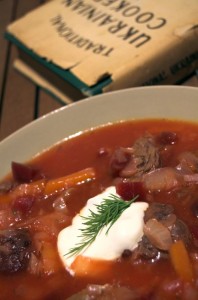 I was looking for a recipe for a borsch similar to what I had at the very lovely Troikka in Helsinki some months ago. This, sadly, isn't it. Nice, but not right. Part of the problem is that I couldn't find fresh beetroot, only vacuum-packed, precooked. I also think that it would be nice if the vegetables were pureed prior to adding back the cubed beetroot.
Stock:
1 kilo stewing beef
1 carrot, chopped
1 stalk celery, chopped
2 liters water
Soup:
2 carrots, julienned
1 small head cabbage, sliced thinly
8 small cooked beetroots, cubed
1/3 red onion
250gm tomato paste
juice of half a lemon
2 tablespoons flour
salt, pepper
fresh dill
soured cream
For the stock, cover the beef in water, add a bit of salt and bring to the boil. Skim off the scum that forms and reduce to a simmer. Add the carrot and celery and cook for at least an hour and a half. I actually cooked it for nearly three. When it's done, put the meat aside and strain the stock.
Add the cabbage and cook for 15 minutes. Add the julienned carrots and onion and cook an additional 15 minutes. Add the cubed beetroot, tomato paste and lemon juice and cook another 15 minutes. Mix the flour with a little water and stir into the soup. Finally add the meat back to the soup and cook until thickened.
Add salt and pepper to taste, serve with dill and soured cream.