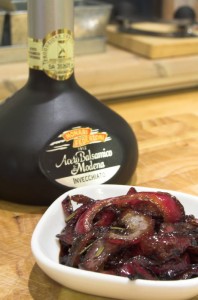 Lovely, lovely, sweet red onions. No one in my household liked onions when I made this, so this made just enough for me, me, me (plus a little extra). Would have been nice with some sliced fennel grilled with the onions, I expect.
Ingredients:
1 medium sized red opinion, sliced into thin slices
2 tablespoons balsamic vinegar
1 tablespoon olive oil
1 1/2 teaspoon chopped fresh rosemary
1 clove minced or crushed garlic
salt and pepper
Heat the vinegar, garlic and rosemary in a sauce pan until hot, but don't let it boil. Let the mixture stand for 20 minutes. If it seems that a lot of balsamic has evaporated off, add another tablespoon or so. Heat the oil in a small frying pan. Place the onions in a single layer in the pan and coat with the olive oil, salt and pepper. Fry over a medium heat for 4-6 minutes until the onions are soft and slightly browned. Toss with the vinegar mixture.
Especially nice with any sort of pork dish.