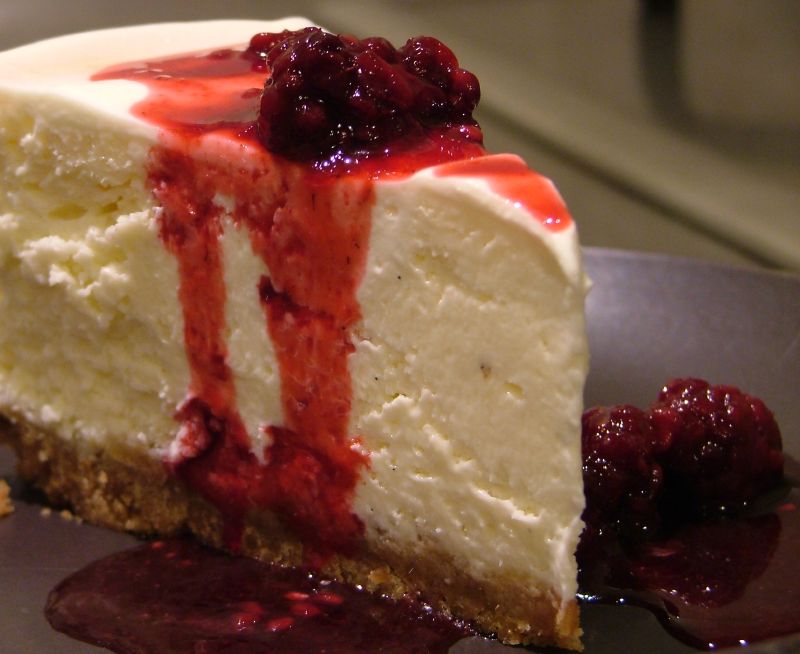 Light and fluffy and very, very rich, this is my very favourite cheesecake.
All ingredients should be room temperature before starting.
Ingredients:
Small Packet Digestive biscuits, crushed (250g)
60ml (4 tbsp) melted butter
3 x 300g packages cream cheese
375g (1 1/2 cups) sugar
145ml (1/2 cup) double cream
4 eggs
280ml (1 cup) sour cream
15ml (1 tbsp) vanilla
30g (1/4 cup) flour
30g (1/4 cup) icing sugar (or less, to taste)
Preheat oven to 175C and grease a 20cm springform pan. Mix the crushed biscuits with the melted butter and press into the bottom of the pan and slightly up the sides. Put in the refrigerator while the other ingredients are being mixed.
Separate the egg yolks from the whites and beat the whites until stiff. Mix the cream cheese and sugar until smooth, then stir in the cream. Add the eggs, half of the sour cream, vanilla and flour and mix until smooth. Fold in the egg whites, mixing in completely, but not beating too much.
Pour into the crust and bake in the middle of the oven for one hour. Don't open the door before the hour is up. After an hour it should still wobble slightly in the middle but it will set as it cools. Turn the oven off and leave the cheesecake inside for an hour. Run a knife between the cake and the pan and leave on a wire rack to cool completely.
Mix the remaining sour cream with icing sugar and spread over the top of the cheesecake. Refridgerate for 4 to 6 hours or overnight.