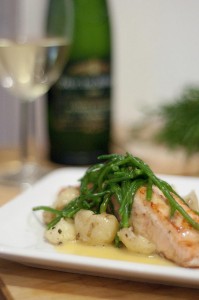 Samphire grows abundantly around the salt marshes of the eastern English coast. In the late summer, it's not uncommon to see householders offering bunches of samphire for free or on the honour system on the roadsides. It looks much like what we called "iceplant" in California, though much smaller, is quite salty and tastes like the seaside. Samphire can be eaten fresh, boiled or steamed.
This is a very sophisticated meal that is perfectly set off by the samphire, but your heart will not thank you for it!


Ingredients:
2 salmon fillets without skins
2 handfuls of fresh samphire
Boiled baby new potatoes, lightly crushed
For the Beurre Blanc:
1 cup (235ml) dry white wine
1/2 cup (120ml) white wine vinegar
1 shallot chopped finely
1/2 cube (that's a UK cube or 125 grams/4.5 oz) of unsalted butter, cold and cubed
White peppercorns
Salt and fresh ground pepper
The method for making the beurre blanc is via Jamie Oliver and is dead clever. It means that the sauce can be made slightly in advance.
Add the wine, wine vinegar, peppercorns and chopped shallots to a small saucepan and bring to a boil, then reduce to a simmer and cook until the liquid has reduced to about 3 tablespoons.
Fill a thermos flask with boiling water to warm it, pour it out, and then sieve the wine mixture into the flask. Add the cold butter cubes, close the flask and shake it vigorously until your can't hear sloshing anymore. If, when time to serve it's too thick, add a scant amount of boiling water and shake to loosen it up.
Pan fry the salmon fillets and place on top of crushed baby new potatoes.
Wash the samphire thoroughly in cold water and remove any dried stems. Steam for a couple of minutes then place it on top of the salmon fillets. Pour the beurre blanc over the lot of it.
After dinner, go for a run to loosen up those arteries.