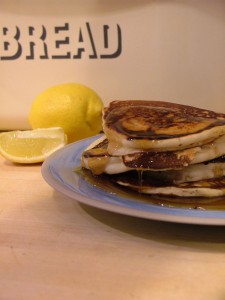 Being American, I've been making pancakes in the American style since I was allowed near a stove, but using English flour and baking powder to make them here in the UK has always been a slight disappointment. Here's a very good version that makes enough for 3 people, or two fairly hungry people. About 12 pancakes.
Ingredients
140g self-raising flour
1 tsp baking powder
½ tsp salt
2 tbsp caster sugar
150ml milk
1 egg
2 tbsp melted butter or vegetable oil
Mix the flour, baking powder, salt and caster sugar in a large bowl. Mix the milk, egg and melted butter or oil in a seperate bowl.
Pour the liquid mixture into the dry ingredients and beat until you have a smoothish batter.
Heat a non-stick frying pan over a medium heat and add a knob of butter or oil. Pour in a ladle full of batter. When the top of the pancake begins to bubble, flip it over and cook until both sides are golden brown.